SEAWOLF
This timepiece pays homage to the legendary USS Seawolf SSN-21 nuclear-powered, fast-attack submarine. Made for speed, precision and high-performance.
A Blend of Luxury and Purpose
The Waldhoff Seawolf features a combination of mirror-polished chamfers and brushed stainless steel surfaces. The ceramic bezel ring has considerable durability; it is harder than most metals, corrosion resistant, and will keep its color indefinitely. Geneva Stripes - a feature usually found on high-end classic timepieces, is another unusual touch on a dive watch and a tribute to the brand's classic roots.
A Refined Everyday Watch
The Waldhoff Seawolf timepiece is well suited for the office as well as for the weekend dive, it is a true multipurpose style.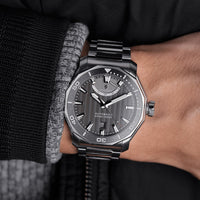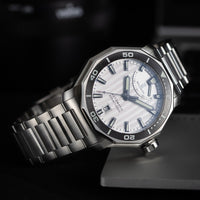 Understated Yet Original
Dive watches are meant to be easy to read, with monochromatic, simple dials with large indices. We took this concept and added a dose of luxury, using shapes and features that do not distract from its purpose but exude grandeur.
Rich in Details
The caseback features a 3D relief of a submarine cutting through waves on a starry sky. The markings on the perimeter are engraved.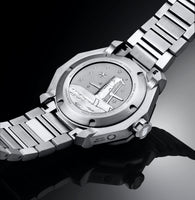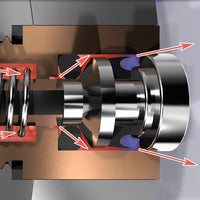 Featuring a Helium Gas Release Valve
A helium gas release valve, is intended for saturation diving using helium based breathing gas.When saturation divers operate at great depths, they live under pressure in a saturation habitat with an atmosphere containing helium or hydrogen. Since helium atoms are the smallest natural gas particles, they are able to diffuse into the watch, past the seals which are able to prevent ingress of larger molecules such as water. This is not a problem as long as the watch remains under external pressure, but when decompressing, a pressure difference builds up between the trapped gas inside the watch case and the external environment. Depending on the construction of the watch case and crystal, this effect can cause damage to the watch, such as the crystal popping off, as diving watches are designed primarily to withstand external pressure.