AS SEEN ON

"An uncommon level of excellence while keeping prices affordable"

"The shine of this stainless steel Waldhoff is flawless"

"High-end approach to affordable watches"

"A unique blend of timeless sophistication"


"A great value proposition"
What they're saying
"Received my watches, its the second time I back you gentlemen and I am not disappointed. Beautiful pieces and excellent artisanship!"

Tobias K. M.
"Today I received my watch. WHAT A BEAUTY. You did it again! A previous watch from you was also outstanding, and this watch is possibly even better"

Serge W
"I own a Patek, Blancpain and Lange & Soehne pieces, but guess what draws the most compliments? The Waldhoffs and their mesmerizing tourbillon movements"

Dr. Gregg Melfi
"I too received my watches some time ago and I'm absolutely stunned by how beautiful they look"

Jonathan S
"I have purchased three watches including the Tourbillon from Waldhoff, the outstanding quality and service puts some of the "big names" to shame!"

Kieron Dougherty
Created with passion
We are traditionalists, and even our design process involves freehand drawing before we move into digital illustration tools. There is something about traditional techniques that gives products an unmistakable flair, something that can't be explained or described.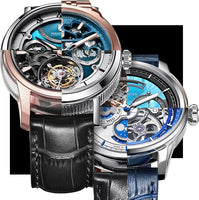 Attention to detail
It takes at least 8 reviews on any particular project, over a time span of 4 to 6 months, until we finalize one new design, a rate common to the Swiss luxury watch industry, but applied to accessible products.
Made by real people
We try to perform most technical tasks ourselves, including technical drawings, parts purchasing, quality control and testing. We sometimes modify movements for the purpose of durability, and serve as technical advisors to some of our movement suppliers.