THE CONTINENTAL S
The Waldhoff Continental S was designed to be a balance of
classic and sportiness.  It features and intricate tourbillon movement, a
bespoke Damascus steel dial and a sporty stainless steel body. Its front is
keeping things simple for the sake of readability, but the backside reveals the beautifully detailed movement under a Swiss sapphire crystal. The case is uniquely designed and reminiscent of iconic Swiss timepieces.
Designed In-House
We design our products ourselves, never relying on third party design agencies. This ensures that all Waldhoff are made of the same blood and carry the brand's personality.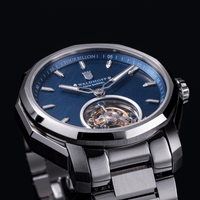 A Luxurious Presence
The Continental S has a striking presence. A contemporary stainless steel bezel and case feature a blend of brushed and mirror polished surfaces.
A striking Damascus steel dial, a material first used centuries ago in the manufacture of swords, adorns the face of the watch.
Rough meets polished
The Continental S juxtaposes the rough finish of Damascus steel with diamond-cut, mirror-polished hands and the delicate gears of its tourbillon movement, an unusual, eye-catching combination.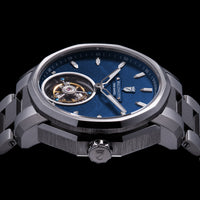 A Muscular Case
The delicate tourbillon movement and its nearly 200 individual components are housed in a muscular stainless-steel case, a sporty styling that is well received in the office or at the country club.
A Bold Statement
The Continental S Black is a head turning timepiece, featuring a black IP coating on case and bracelet, while preserving readability through the use of polished gun-metal color indices and hands.