THE ULTRAMATIC II
The Ultramatic II builds upon the legacy of the original
Ultramatic tourbillon, which was launched in 2018 and became our most sought after product. This new iteration comes with a slightly smaller, more elaborate and high-end case with a CNC cut vertical pattern on its sides. The multi-layer dial has deeper, more three-dimensional features and metallic applied parts.
We took the elements that made the Ultramatic a success and improved upon them. Higher quality applied elements, circular brushed sub-dial surround, CNC-machined freshwater pearl layer. The Sun & Moon disc contains 3-dimensional shapes and powerful Swiss luminous.
The caseback of the Ultramatic II is beautifully machined with a radial pattern, a significant improvement over its predecessor.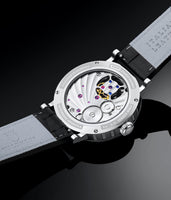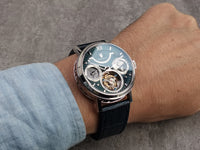 The watch is striking in its style and the richness of its dial, details, contrasts and finishes. It has received far beyond the level of attention of most products in its price class. Every element has its own importance and it is the sum of these elements that give it its distinct character.