THE MULTIMATIC II
The Multimatic is the watch that put Waldhoff on the map at the very beginning; there would be no business if it wasn't for its existence. We wanted to pay homage to this style by creating a new version, improved and refined in many ways. At its heart beats the same time-tested Miyota 9100 premium caliber, a multifunction movement with automatic winding.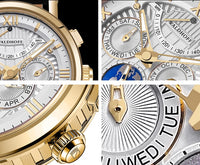 Maximal attention to detail
The Multimatic II is sort of our crown jewel of mechanical, automatic timepieces. It builts atop a strong legacy, and it had to be absolutely perfect in every way; pushing what was already good to its limits.
A classy presence on the wrist
The Multimatic II watch is what we call classic-modern. Its proportions and layout are classic but its execution, finishes and features are modern. The result is a unique product that exudes quality and prestige.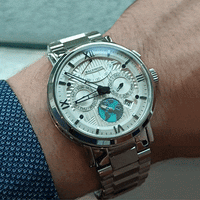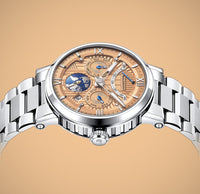 Memorable new colors
The Multimatic II came with refreshing new colorways, inspired by new trends in the Swiss watch industry. These colors range from classics such as silver and black to statement colors such as salmon and green paired with rose gold IP.
Assembled by hand
Every watch is carefully assembled by hand by our own watchmakers. We do not buy complete watches from foreign manufacturers, we but each component ourselves and have them shipped to our workshop. Parts that do not conform to our quality standards do not make it in our products.