THE CONTINENTAL
The Continental Tourbillon is our new flagship tourbillon timepiece. It is a contemporary design in a tailored steel suit, featuring a genuine Damascus steel dial and applied metal details. It was envisioned to be a recognizable icon from any angle.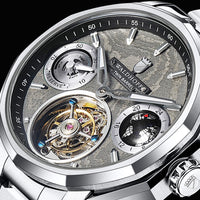 A Damascus Steel dial
The dial of the Continental is uncluttered and easy to read, with a surface made of genuine Damascus steel, an ancient metal alloy reputed for its strength and durability, used in sworts of ancient mesopotamia. Each dial is unique and has a different pattern.
Tourbillon Movement
The HZ 3415 twin-barrel, extra long reserve Co-axial Tourbillon beating at the heart of the Continental is part of a new generation of affordable tourbillons from the Far East. It is much improved in reliability and durability over previous tourbillon generations.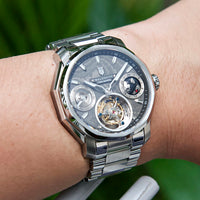 Style & Character
Is it increasingly difficult to find an iconic shape, most have already been "found" and copyrighted, but it is the designer's duty to explore and try. We think the case of the Continental succeeded in that aspect.
Bolder Colors
For those who like a bit of color in their apparel, we produced a Continental with a green plated Damascus steel dial. In this shade, the Continental tourbillon is sure to catch even more attention.