THE REPUBLIC II
The Republic II is our newest product, building upon the legacy of the
original Republic timepiece which helped to launch the brand in 2017. It
features an intricate dial showing its automatic movement and beating
heart. Wide hands with Swiss luminous and large hour markers ensure easy
readability. Sporty yet a timeless design, with slimmed down
proportions and a 41.2mm case diameter, it can be worn in the office
just as well as at a sporting event.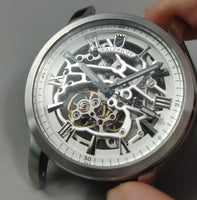 Captivating Depths
The new skeleton automatic movement provides an improved and more open view into its mechanical intricacies.
A Sporty presence on the wrist
The Republic II watch is a blend of sporty and leisure. Its case maintains comfortable proportions and weight while sporting a muscular case and easily readable dial. It is stylistically related to the Waldhoff Seawolf and Atlas GMT timepieces, minus the heft and weight.
Exposition Caseback
We designed a large window in the caseback to allow for a view into the automatic movement.