THE METROPOLIS
The Metropolis Tourbillon is a fresh take on the Imperial timepiece. It uses the same intricate movement from the Waldhoff Imperial watch, with its highly detailed skeleton deck, a fascinating
sight by itself, encased in a new stainless steel case. 
An intricate skeleton movement
The focus of the Metropolis is its intricately skeletonized tourbillon movement. The deck of the movement has an unusual three dimensional shape, versus the usual two dimensional CNC cut pattern.
A beautiful backview
The backside of the Metropolis offers a deep view into its decorated movement. The absence of a winding rotor allows for a better signs into all its details.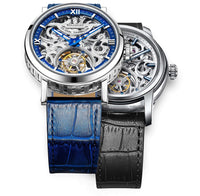 Descended from the best
The Metropolis is the descendant of the Imperial timepiece, a spectacular, sapphire-cased timepiece. It is using the same skeleton movement in a new, more compact stainless steel case and a metallic dial.